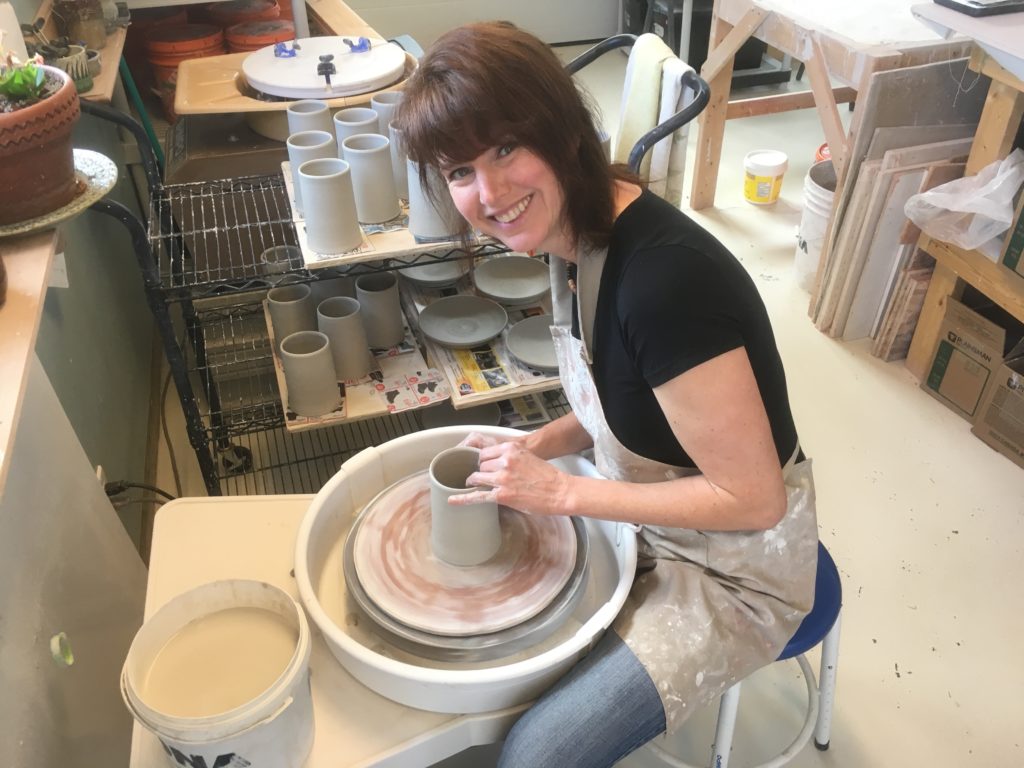 I create ceramic objects that are reflective of my love of nature, but items that are also useful in everyday life. I was born in Cornwall, Ontario. After earning a degree with honours in Geography from Guelph University in 1992, I moved out West to Calgary, where I met my husband. I am a self-taught potter for the most part – having taken the odd class to supplement my independent learning. I am currently a full-time studio potter, which augments my other full-time job as a mother of three.
I grew up on a beautiful farm in eastern Ontario. My family were dairy farmers – and we enjoyed the luxury of having a lot of land. I spent my childhood roaming the nooks and crannies of the land which held our farm – especially the bush out in the back. I would spend hours and hours there, picnicking, exploring, or just breathing it all in. I would watch how the light fell through branches, kissing leaves and twigs on its way down to form chaotic patterns on the tree floor. This serves as the foundation for my interest in honest, earth-tone pottery and love of creating simple surfaces and forms.
The pots I create reflect the enjoyment I have for throwing, embellishing, creating and using. I enjoy creating each piece with its own unique character and personality, whether I change a spout, foot, rim, glaze colour or decorative element. All of my pieces are wheel thrown and altered in some way. I embellish my pots with deep relief carving at times – others with mixtures of various coloured glazes, and have recently started incorporating light-relief drawings with black slip into my pieces. The forms I make are usually organic in nature, reflecting my love of the material I use – and my personal preference for a clearly "hand-made" look to my work. My inspirations for surfaces come from a love of texture and colour combinations – feel as well as sight.
I currently work from my studio in Calgary, where I live with my husband Nick, our son Rowan and two daughters Charlotte and Samantha.